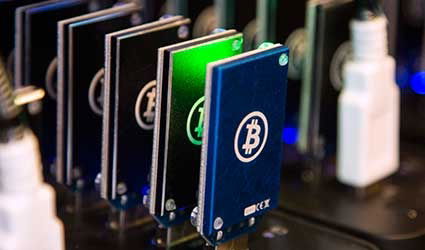 SUNNYVALE, California (Reuters) – Tucked away in an air conditioned data centre in Silicon Valley is a hodgepodge of black boxes, circuit boards and cooling fans owned by 27-year-old Aaron Jackson-Wilde, a modern-day prospector looking for Bitcoins.
Since discovering the digital currency a few months ago, Jackson-Wilde has paid about $2,000 for his "rigs," which are powered by specialized computer chips. They are designed to help operate and maintain the Bitcoin network – and, in return, generate a small reward in a process known as "Bitcoin mining."
A form of electronic money independent of traditional banking, Bitcoins started circulating in 2009 and have since become the most prominent of several fledgling digital currencies.
While they quickly gained a reputation for facilitating drug deals and money laundering, Bitcoins have of late garnered attention from investors, such as venture capital firm Andreessen Horowitz. The volume of transactions using Bitcoins today remains miniscule, but enthusiasts believe the peer-to-peer currency will play a major role in e-commerce and could eventually become as ubiquitous as email.
Bitcoin mining is based on a unique feature of the digital currency. Unlike traditional currencies, where a central bank decides how much money to print based on goals like controlling inflation, no central authority governs the supply of Bitcoins.
Instead, Bitcoin transactions are tracked by a network of computers that solve complex mathematical problems to validate transactions and prevent counterfeit. The system automatically generates new Bitcoins as the math problems are solved and rewards them to the computer operators.
In a key twist that keeps inflation in check, the difficulty of the cryptographic math that leads to newly minted coins grows as more computers join the network.
That has led some technology professionals to target a new market in souped-up computers and specialized chips aimed at the growing ranks of Bitcoin "miners."
Consider Ravi Iyengar, who first heard of Bitcoins about six months ago. Since then he has quit his job as a senior chip architect at Samsung Electronics and raised $1.5 million to launch CoinTerra. He says he has already pre-sold more than $5 million worth of the hardware he has designed for Bitcoin mining.
"I've been in arms races throughout my career – AMD, ARM, Intel," said Iyengar, referring to prominent semiconductor companies, "but none of them match the intensity of Bitcoin mining. Each month in Bitcoin mining is like a year."