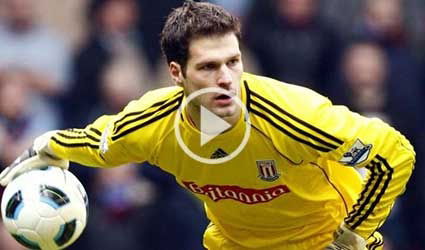 LONDON (Reuters) – Bosnia goalkeeper Asmir Begovic scored one of the quickest goals in English league football when he gave Stoke City the lead against Southampton after 14 seconds of their 1-1 draw in the Premier League on Saturday.
Begovic scored when his huge kick from his own penalty area was carried by the wind the length of the Britannia Stadium pitch and bounced between the Saints centre-halves and over goalkeeper Artur Boruc and into the back of the Southampton net.
The quickest goal in the Premier League was scored after 10 seconds by Ledley King of Tottenham Hotspur in a match at Bradford City in 2000.
Begovic, whose goal was cancelled out by Jay Rodriguez's equaliser, became the fifth keeper to score in the Premier League era after Peter Schmeichel, Tim Howard, Brad Friedel and Paul Robinson.
Begovic told the BBC afterwards: "It's a cool feeling but it is a fortunate incident. I feel bad for Artur Boruc when that happens but it's a good point for us.
"It does not make a goalkeeper look good, and after it (went in) I did not want to celebrate against (Boruc). We are at home and want to get points. We had to graft one out in the end with the conditions.
"It's the worst conditions you can play in. The wet you can deal with but the wind makes it difficult. You don't know where the ball is going to go."
Boruc, who had an otherwise impressive game, said: "I don't want to remember it any more. I blame the wind for that. I'm really sorry for my team mates and our supporters but what can I say? What happens happens, and I need to bounce back. I promise to get those two points back.
"These kinds of things happen to goalkeepers. It has happened before and will happen again."
Southampton, who have made a good start to the season and ended the day in fifth place, equalised with a more orthodox goal, a header from Rodriguez, three minutes before halftime.