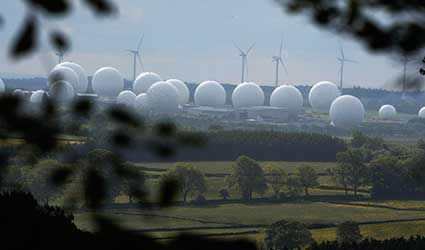 LONDON (Reuters) – Spy agencies across Western Europe are working together on mass surveillance of Internet and phone traffic comparable to programmes run by their U.S. counterpart denounced by European governments, Britain's Guardian newspaper reported on Saturday.
Citing documents leaked by fugitive former U.S. National Security Agency (NSA) contractor Edward Snowden, the Guardian said methods included tapping into fibre optic cables and working covertly with private telecommunications companies.
The Guardian named Germany, France, Spain, Sweden and the Netherlands as countries where intelligence agencies had been developing such methods in cooperation with counterparts including Britain's surveillance agency GCHQ.
The report is potentially embarrassing for governments, especially in Germany and France which have been the most vocal in protesting about U.S. mass surveillance of European communication networks revealed by Snowden since June.
Germany, jointly with Brazil, circulated a draft resolution to a U.N. General Assembly committee on Friday that called for an end to excessive electronic surveillance, data collection and other gross invasions of privacy.
There has been particular anger in Germany, a close ally of the United States, over the revelation that the NSA monitored the mobile phone of Chancellor Angela Merkel.
Snowden has written an open letter to Merkel and other German authorities to say he is counting on international support to stop Washington's "persecution" of him.
Germany's BND federal intelligence service said there had been considerations in 2008 about merging German security services' surveillance of telecommunications, which would have required changes to telecommunication and security laws.
It said it had exchanged experiences with the British services on this in 2008 but these discussions had focussed on technical rather than legal issues. The BND added that it regularly held such exchanges on technical developments with other European services.
"It is incorrect that Germany's BND federal intelligence service tried to circumvent legal restrictions to be able to implement British acquisition technology. On this point too the BND complied with the law," a BND spokesman said.
The Guardian said GCHQ files leaked by Snowden showed the British agency taking credit for advising European counterparts on how to get around domestic laws intended to restrict their surveillance powers.