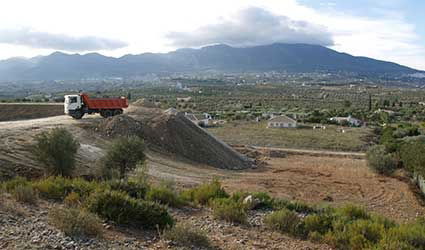 By Sophie Elliott
A COUNTRYSIDE community is living blighted by fear that a private reservoir being built on a hill above their houses could burst and flood them out.
Seven and a half weeks ago heavy machinery began to eat away at a hectare of The Sierra Espartales mountains behind a residential area of Ballesteros on the outskirts of Alhaurin El Grande.
Now residents, both British and Spanish are becoming increasingly worried about the reservoir, being built by an avocado farmer.
With an estimated capacity of 15 million litres of water weighing 15,000 tonnes, locals say it is a recipe for disaster.
One homeowner was told that the farmer intends to seal the area with Polybutyle liners, which he fears will not provide enough support. That could, he fears lead to a catastrophic failure, with several homes in the path of any flood.
The land owner also told the same man that he will fill the store from his existing seven wells.
Locals fear that could deplete the water table, leaving them with dry wells and no water.
Due to mounting fears several members of the small rural community have reported the work being carried out to the Alhaurin and Cartama Town Halls.
One local, Tony, who did not want to give his full name, said: "It's awful. First the council in Alhaurin El Grande told us he had no license to build and the expired license he did hold was for agricultural work. It's stupid. He has several houses in the area, if he wants build a water reservoir why not build it lower down by his houses and not high up where it is of danger to the rest of the community?
"He will run the rest of the neighbourhood dry and then the council will be obliged to supply the affected homes with water. It's selfish using everyone else's water. "
Another concerned homeowner who doesn't want to be named for legal reasons said: "It's really worrying. We don't know how safe it will be or even if he has legal permission. What do we do? We reported him and nothing has happened. My house is in direct line with the reservoir and if the wall fails it will flood my property and destroy the allotments to the side of us."
In addition the people residing in the area are "heartbroken" by the visual damage already caused to the beautiful rural area where many of them had decided to settle for the rest of their lives.