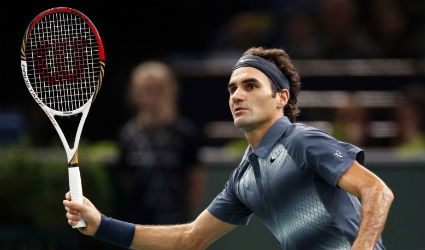 PARIS (Reuters) – Former world number one Roger Federer showed some of his old class when beating Argentine Juan Martin Del Potro 6-3 4-6 6-3 at the Paris Masters on Friday to set up a semi-final clash with Novak Djokovic.
The Swiss, who had lost his prior three encounters with the towering Del Potro including the Basel Open final on Sunday, will play a Masters Series semi-final for only the second time this year.
He will face Djokovic, who hammered Swiss Stanislas Wawrinka 6-1 6-4, for the first time since last year's ATP World Tour finals.
Federer has a 16-13 record against the Serb, who won their last meeting in London a year ago.
"Roger is probably experiencing the worst season that he's had in the last 10 years, but he's still a player to beat in every tournament, because he's Roger Federer, because he has won 17 grand slams," Djokovic told a news conference.
"You can't underestimate him, although maybe he's not at the form where he was when he was number one in the world. But I have been watching his matches in Basel last week and here. I think he's playing really well."
Fifth seeded Federer proved Djokovic right in the first set of his quarter-final against Del Potro, reviving his old brilliance to hit 17 winners.
However, he lost a bit a sharpness in the second set and the Argentine made the most of it.
Del Potro, who did not have a single break chance until the second set's 10th game, converted his second to force Federer into a decisive set.
Cheered on by the packed crowd, 2011 Paris Masters winner Federer played more aggressively and broke Del Potro's serve in the seventh game.
Djokovic, the 2009 Paris Masters champion, had to battle through five sets to prevail in his last two matches against Wawrinka but started fast this time out to take a 3-0 lead.
He never loosened his grip and left the seventh seeded Swiss with the feeling he had no chance of victory.
"When he plays that good it's very difficult, especially on this surface where he's the best, I believe," Wawrinka said.
World number one Rafa Nadal faces local favourite Richard Gasquet in the late session's first match before title holder David Ferrer takes on sixth-seed Czech Tomas Berdych.