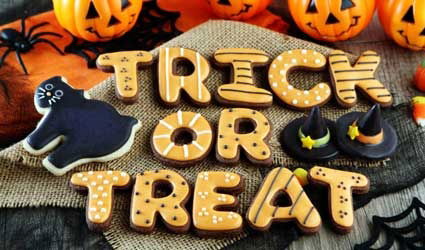 HALLOWEEN is traditionally the most fearful of days: some of the costumes available in the shops should probably be rated 18 years or older and if your house is on the trick-or-treat circuit, there is always the ultimate fear that the visitor will deliver an unwanted trick, unsatisfied with the sweet offerings. Or worse, it may be an opportunistic tax inspector lurking in your neighbourhood.
One segment of society, however, is surely beating the voodoo drum of joy at this increasingly popular tradition: the retailers. Last year in the US, Halloween expenditure amounted to a record $8 billion (€5.8 billion), while Brits spirited away some £300 million (€351 million) on all things orange and ghoulish, up from a mere £12 million (€14.06 million) only a decade ago, according to The Independent.
But if Halloween, or 'La noche de brujas' as some call it here, is not your cup of witches' brew, you should not lay the blame solely on the Americans, who have admittedly assimilated this season with such gusto and finesse.
Look no further than our forefathers from Scotland and Ireland who brought this predominantly Celtic tradition to the US centuries ago. It was not until the 1930's, however, that the 'trick or treat' term was coined in relation to ritualised begging on Halloween and it did not become the 'wholesome' family pursuit it is seen as today until much later, only reaching most of Europe in the late 20th Century.
Personally I am surprised it took so long; what with the immense money-making opportunity and our seeming fascination with all things occult, scary and morbid. In the US, Halloween lags only Christmas in financial terms and accounts for a quarter of all sweets sold during the year.
Yet come November 1, sugar highs have to be curtailed and any festivity-lag buried to head off to work or school. Not so in Spain – and much of Europe  – where All Saints Day is observed; a day to visit the graves of family members, departed from this world.
Halloween is also about the notion of life and death, yin and yang, or good versus evil – something all humans tend to dwell on, regardless of religion, race or background. So like it or not, this rather recent tradition is likely to go from strength to strength.
If you still haven't the inclination or nerve to participate in these eerie festivities, may I recommend locking the doors, closing the curtains and turning off the lights to instead enjoy a good movie by candlelight.
Some of my all-time favourites, for this particular occasion are The Blair Witch Project, Final Destination (there are four sequels, too, in case sleep eludes you) and The Sixth Sense. None are suitable for the kids, but then they will probably be out trick or treating with their friends. If this level of entertainment is not scary enough for you, then may I suggest opening a recent letter from the Hacienda or the Inland Revenue – an experience sure to send goosebumps down the spine of every living human being. Just remember not to open the door, should someone call…