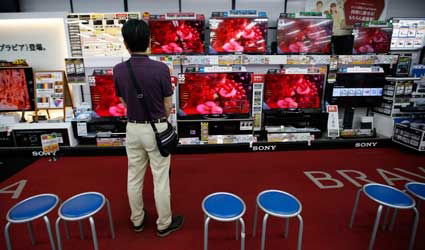 TOKYO (Reuters) – Sony Corp CEO Kazuo Hirai's determination to stick to the consumer electronics that made the company's fame will be put to the test in the months ahead as domestic rivals step up a shift to more profitable industrial technology.
On Thursday the home of gadgets from the Walkman music player to the Cybershot camera warned it won't meet previous full-year profit targets after sliding to a net loss of 19.3 billion yen (123 million pounds) for July to September. Its TV operation relapsed into the red on weak sales.
Meanwhile Panasonic Corp raised its earnings forecast on strong sales of products like batteries to industry clients, and Sharp Corp bounced to its first quarterly net profit in two years, helped by sales of solar panels.
The big three in Japan's electronics have been forced to review their strategy choices after racking up combined aggregate net losses of about $38 billion in the five years up to March this year. While they struggled to rein in fixed costs in Japanese manufacturing that eat away at revenue, nimbler foreign companies like Apple Inc, Samsung Electronics Co and Asian rivals grew richer and stronger.
Since Chief Executive Kazuo Hirai took the helm last year, Sony has promised a rebound in hardware with a three-pronged strategy focused on mobile devices, imaging technology and gaming. But the below-expectations performance in the second quarter stirred doubts about how Sony can anchor a turnaround by reviving fervour among consumers who now covet goods like Apple's iPad and Samsung's Galaxy smartphone.
"I still cannot see any fundamental and believable strategy for the rebirth of Sony's electronics business," said Makoto Kikuchi, CEO of Myojo Asset Management based in Tokyo, speaking after Sony announced its earnings.
"On the other hand Panasonic, which is shifting its business away from consumer electronics, is reporting better-than-expected results. The contrast is like night and day."
Just two of Sony's units, music and financial services, boosted operating earnings compared with a year ago while its movie business also lost money. The Tokyo-based company has come under pressure from major shareholder and hedge fund manager Daniel Loeb to generate more value from its entertainment division – pressure that could intensify after the weak earnings.
STRATEGIC CHOICES
In contrast, Osaka-based Panasonic raised its forecast for operating profit in the year through March by 8 percent to 270 billion yen, more than had been expected, on strong sales of its automotive systems and eco-friendly technology.
At Sharp, a supplier of panels for the iPhone, a surprise net profit of 13.6 billion yen in its fiscal second quarter was helped by strong demand for solar cells and a weaker yen. While it is still struggling to shore up its finances, recently issuing $1.7 billion in new shares, it's a significant turnaround from a 545 billion yen net loss a year earlier.
Panasonic's earnings statement came amid an appraisal of its strategic choices. A day after saying it would ramp up supply of lithium ion batteries to U.S. carmaker Tesla Motors Inc to nearly 2 billion cells in the four years to 2017, Panasonic formally confirmed it will exit plasma TV manufacturing.
Its TV and panel division lost 25.6 billion yen in the second quarter, a wider loss than at Sony. Mopping up the red ink comes at a cost, however: Panasonic raised its restructuring budget for this year to 170 billion yen from a previous figure of 120 billion yen.
At Sony, the commitment to build a healthy TV business lives on. On Thursday, it said its TV operation flipped from a 5.2 billion yen operating profit in April-June – its first quarterly profit in three years – to a 9.3 billion yen operating loss.
The smartphone business at Sony was one of few to show signs of holding up in the latest quarter. Sony said it still expects to sell 42 million smartphones this fiscal year, unchanged from previous guidance, after selling 10 million in the three months between July to September.
But with weak sales of video cameras and cameras, as well as a slump in personal computers that has it racing to restructure its Vaio division, the pillars of Hirai's future development strategy look weak right now.
"We plan to revise our product, sales and manufacturing strategy for our Vaio unit. We realise that we don't have much time so we plan to implement our decisions in the next fiscal year," Shiro Kambe, Sony's senior vice president, told reporters.
Sony is still aiming to get its electronics division in the black this year, although Chief Financial Officer Masaru Kato said it would likely miss a previous target of 100 billion yen in operating profit.
One business for which Sony does retain high hopes is its video games divisions.
There have been signs of a strong debut next month in the U.S. and other key markets for Sony's new PlayStation 4 game console, based on preorders. As with previous consoles, development and rollout costs have been steep, although Sony has pledged to turn a profit much faster than the four years it took for the previous iteration of the console to make money.
"I think we're at a stage where they really should be reconsidering their (three-pronged) strategy but the company is not going there yet," said Myojo Asset's Kikuchi.