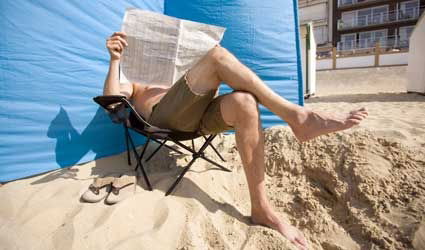 I DON'T often follow up on mail I receive, mainly because I think you can get too bogged down with a single subject. Frankly with a short blurb such as mine, there simply isn't enough space for such columnist luxury.
I will however make an exception with regard to last week's published missive, which likened the British expat community in Spain to the immigrants now threatening to swamp the UK.
I agree many of the British are inclined to stick to their own, both socially and abode-wise. It is, I suppose a tribal and comfort zone situation, and in many cases (not mine I hasten to add) perfectly understandable.
There are however one or two glaring differences. We don't strut around with posters insulting and indeed openly threatening our Spanish hosts. We don't try to change their customs and laws and we don't insist that Spanish women should be classed as second class citizens and clad in shrouds. In fact, as another correspondent observed; apart from the concerns now being raised by their ever increasing illegal numbers, the British had no particular trouble encompassing the West Indian and Asian immigrants, many of whom have integrated and brought a very welcome diversity to us notoriously staid Brits.
It is only since the influx of the Muslim extremists that all the real troubles have reared up. It is a large section of the Islamic followers who have caused most of the unrest and bitterness. A situation that is now finally being openly discussed by disgruntled British inhabitants and indeed many politicians.
If a whole section of people from another religion and culture make every effort to disrupt and change the society that has taken them in, who can blame its locals for getting annoyed? You can't really get more ungrateful than that!
To compare British expats to these people is not only ridiculous, but to my mind quite insulting. I think most of us are extremely grateful that we can live freely in the sunshine with our colourful and generally laid back hosts.
Ok, so perhaps many could make more effort with the language, I agree there are those who moan too much. Mind you, these are mainly people that moan about just about anything anyway! But heaven forbid we should try and change their culture, religion or laws.
If I personally didn't agree with the way our hosts lived, I would simply 'up the roots' and move to a country I did find 'acceptable'. It's a pity the same decision is not being made by many of those who are not satisfied with the British culture and way of life!
As a final note I couldn't make head or tail out of last week's missive likening me to Sean Connery. Was it complimentary or insulting? Don't ask me, I only scribble here!
Keep the faith.
[email protected]  leapylee.co.uk