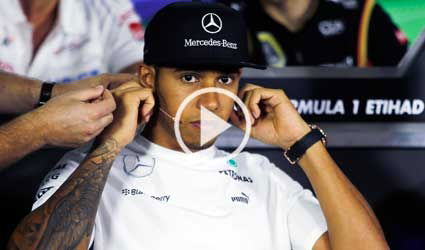 ABU DHABI (Reuters) – Mercedes have enough strength in depth to be successful even if team principal Ross Brawn leaves at the end of the season, Lewis Hamilton said on Thursday.
Brawn's future with the Formula One team has been the subject of renewed speculation this week, with Mercedes non-executive chairman Niki Lauda dismissing as 'rubbish' reports that the principal had decided to go.
Hamilton, the 2008 champion who moved to Mercedes from McLaren at the end of last season and won in Hungary in July, told reporters at the Abu Dhabi Grand Prix that he would wait and see.
"We have had a great working relationship, I don't believe any decisions have really been made just yet, but I think either way we've got a strong set of people in the team," said the Briton.
"I know Niki, (Mercedes motorsport head) Toto (Wolff), Ross and everyone in the team will do the utmost to make sure that whatever decision he makes…that we go into next year with a fighting chance to win the championship."
Hamilton added that his decision to join Mercedes was based on more than just Brawn, whose fame in Formula One dates from his days winning multiple championships with Michael Schumacher as Benetton and Ferrari technical director.
"Ross wasn't the only thing that I came here for. It was a bonus to have Ross here obviously, because I knew how much experience he had and the success he had had in his previous teams," said the Briton.
"At the time he was the one that came and showed me the progress that the team was making and the direction in which they were going. But again that would be the position of any boss who would have done that."