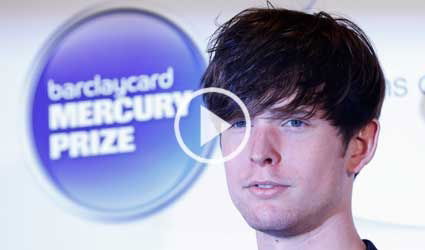 LONDON (Reuters) – Songwriter and singer James Blake won the 2013 Barclaycard Mercury Prize for best album on Wednesday for "Overgrown", with the winner announced at the end of a star-packed concert and awards event in London.
The album selected by a panel of music industry experts as the best of the year from British or Irish artists carries a 20,000-pound ($32,200) cash prize but more importantly helps to boost sales.
Blake, 25 of London, who is known for his melancholy tunes but also incorporates hip hop and electropop, said as he collected his award on the stage of London's Roundhouse that he wanted to thank his fellow band members for "showing the importance of letting other people help you".
Asked if he would give a description of his music, which many critics have had trouble characterising, Blake said: "No, because that will come right back at me."
Pressed on the point, he said that his music "…keeps changing so I keep writing new music."
The shortlist in the award's 22nd year included some of the best-known names in the British pop world, including pop and fashion idol David Bowie who at age 66 was in the competition for "The Next Day" which won rave reviews from critics.
Bowie did not attend in person but submitted a music video featuring images of himself as the young man who became famous as Ziggy Stardust and of himself as an old man, accompanied by poignant lyrics like "say goodbye to the thrills of life … say goodbye to nights without pain".
Also in the running were the Sheffield, England-based Arctic Monkeys who rose from Internet fame to release a first album that became the fastest-selling in British history. They took the Mercury Prize in 2006 and were short-listed in 2007.
But the night also saw cameos from newcomers, including the torch-song, blues-tinged singer Laura Mvula of Birmingham, whose first album was "Sing to the Moon" and who sang a solo blues song accompanying herself on the piano.
Another first-timer was Jake Bugg, 19, of Nottingham who began playing the guitar the age of 12 and who sings about the gritty side of life including pill-popping and stabbings at parties.
The prize has gone to a wide range of musical genres since it began in 1992 and is based solely on the music on the album.