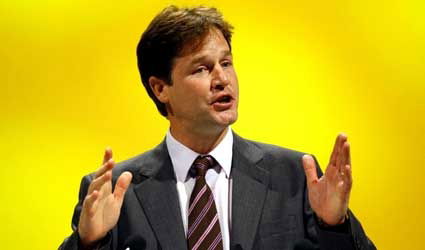 NICK CLEGG is not everyone's favourite, even – or particularly – amongst Lib-Dems.
Joking apart, his remark that "Parents don't want ideology to get in the way of their children's education" will raise a hollow laugh in Spain.
Education minister Jose Ignacio Wert's ideology is now stamped all over the Spanish system, but in one respect he cannot be faulted. 
Students must obtain at least 5.5 in access exams to obtain a university grant although the cut-off mark is 5.  This is patently unfair, say Wert's critics, but the unloved minister pointed out that grants are not loans but funded by the taxpayer.  "A greater effort is asked," he claimed.
There are many motives for criticising Wert but they should not include his policies on grants.
Strasbourg steps in
TO the Spanish government's intense frustration, the Strasbourg court of Human Rights has backed ETA terrorist Ines del Rio.
Del Rio was already in prison when remission through work was removed from Spain's Penal Code in 1995. 
Responsible for 23 deaths, she received a 3,823-year prison term but under existing Spanish law would serve only 30 years. With remission she should have left prison in 2008.
Instead, the authorities applied the same formula used with Etarra Henri Parot in 2006, deducting good behaviour allowances from each count and not the 30-year maximum.
Applying the Parot Doctrine retrospectively is illegal, Strasbourg has said. Initially this ruling affects only Ines del Rio, although other Etarras will walk free.
But they and Del Rio return to a different Spain from the one they left – one where there is no place for ETA which declared a permanent ceasefire two years ago.
Furthermore, critics forget that the Parot Doctrine still applies to Etarras or anyone else with multiple sentences imposed after 1995.
Number One comes first
DOLORES DE COSPEDAL, secretary general of the national PP party, brought a lawsuit against the party's ex-treasurer, Luis Barcenas.
She was defending "her personal honour" following his allegations of illegal funding and salary top-ups.
Barcenas attended the hearing via video link as he is on remand for fraud and money-laundering.  Unrepentantly contradicting De Cospedal he told the court that he personally had handed her envelopes of black money.
The party's groan was audible all over Spain.  Everyone had stopped talking about Barcenas and De Cospedal had stirred things up again.
She gives the strong impression that she is out to look after herself and the devil take the rest.  This is common amongst politicians but usually they make a better job of concealing it. 
Only here for the beer
WITH little money around and European elections looming, politicians fear they will not be sufficiently in the public eye.
Inaugurations, openings and closings are thin on the ground and they will be seen at fewer politically-expedient functions.
If they but knew it, they harvest votes only from those with invites. And they are only interested in the luncheon or dinner that follows.