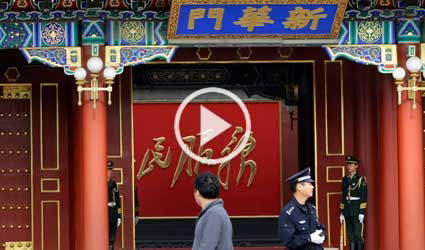 TURPAN, China (Reuters) – Chinese state media demanded severe punishment on Thursday to put down what China has said is a holy war aimed at Beijing by Islamist militants from the restive Xinjiang region.
Security has been strengthened in both Beijing and in Xinjiang in the far west after an SUV ploughed through bystanders in the capital's iconic Tiananmen Square on Monday and burst into flames.
The exiled leader of Xinjiang's Muslim Uighur minority called for an independent probe into the crash, in which the three occupants of the vehicle and two bystanders were killed and dozens were injured.
U.S.-based Rebiya Kadeer said she did not believe any kind of organised extremist Islamic movement was operating in Xinjiang, a view shared by rights groups and some experts.
"It is almost impossible for Uighurs to organise because of China's stringent controls and attacks," she said in an interview.
But police said Monday's incident was a carefully planned and organised "terrorist attack" carried out by people from Xinjiang. They announced they had apprehended five accomplices in Beijing who they said were Islamist militants planning a holy war. Their names suggest they are Uighurs.
Such an attack is a crime against humanity, the city's official Beijing Daily said in a commentary. The government should spare no effort to ensure Beijing's safety, it added.
"Violent terrorist crime is the shared enemy of all humanity, the shared enemy of all ethnic groups in the country, and it must be severely punished under the law," said the commentary, which was also carried on the website of the ruling Communist Party's People's Daily.
"Maintaining the capital's security and stability is a responsibility of utmost importance."
The English-language China Daily said the perpetrators will "go down in history as murderers not heroes".
Xinjiang, a sprawling, desert-like region that borders Central Asian nations that were part of the former Soviet Union as well as Afghanistan and Pakistan, has been beset by violence, blamed by China on Uighur separatists and extremists.
In 2009, nearly 200 people were killed in the Xinjiang capital Urumqi in rioting between Uighurs and the majority Han Chinese.
Many Uighurs chaff at Chinese controls on their religion, culture and language, although the government says they enjoy widespread freedoms.