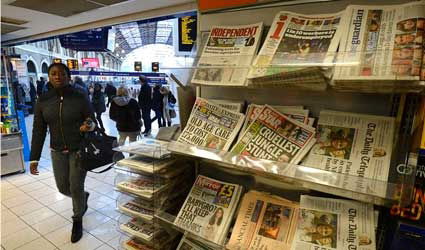 LONDON (Reuters) – Britain approved a new system of regulating its press on Wednesday, a move newspapers said was draconian and threatened freedom of speech but which former victims of press excess described as long overdue.
The government says it wants to stamp out a scandal-hungry culture in parts of the press highlighted in a lengthy judge-led inquiry. Findings included the involvement of one newspaper in hacking into a murdered schoolgirl's mobile phone.
"It'll protect freedom of press and offer redress when mistakes are made," Britain's ministry of culture said on its official Twitter feed. A group of political advisers to the head of state, Queen Elizabeth, had approved the new system in conjunction with the monarch.
The development paves the way for a new industry regulator, makes it easier for people who feel they have been wronged by the press to have their complaints heard, and will allow the new press watchdog to levy fines of up to 1 million pounds.
All three main political parties, including Prime Minister David Cameron's ruling Conservatives, back the new rules.
Britain's press has tried and failed to block the new system via the courts, arguing it would expose the industry to possible political interference since the British parliament will be able to change the system if it wants to.
The government rejected that charge however, saying it had stopped short of statutory press regulation and opted for a form of self-regulation instead, albeit one which was tougher than the press wanted.
Many newspapers have indicated that they will continue to explore legal channels to nullify the new system. They have also said they will ignore it to try to render it ineffective.
It remains unclear how such a standoff could be solved.
Tony Gallagher, editor of Britain's right-leaning Daily Telegraph newspaper, said after the code had been approved: "Chances of us signing up for state interference: zero."
But Hacked Off, a campaign group for press victims, said it welcomed the move and urged the press to drop what it said was its misguided opposition to the new system.
"The press should seize the chance to show the public they do not fear being held to decent ethical standards and that they are proud to be accountable to the people they write for and about," it said in a statement.
The new rules were approved on the same day that a London court heard that two former editors of Murdoch's newspapers oversaw a system of phone-hacking and illegal payments.