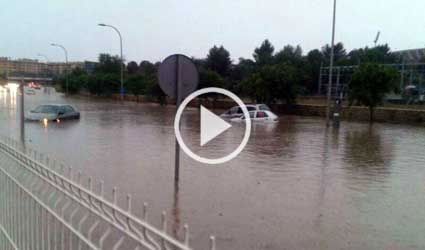 from EWN special corresondent
David Anderson, Palma
Flash floods and severe storms almost brought Palma to a standstill.
Within minutes the main shopping street was turned into a fast flowing river.
High winds and rain caused chaos and damage with most side streets under deep water and small shops flooded out.
One moment it was a pleasant afternoon   – the next the skies turned black, thunder and lightning then the heavens opened.
Visitors and locals alike sought sanctuary in the shops as the flood water roared down Jaume 111.
Traffic cones, plam trees flip flops and shoes were swept down the street, Tiles and spouts were blown from the rooftops.
Soaked holidaymakers, who earlier had been basking in the sun, couldnt believe their eyes.
"I have been been coming to Palma for 2o years and have seen nothing like it, " said Margaret Ramsay. " The storm came out of nowhere and everyone ran for cover. It was a scene of utter panic."
Holidaymnaker Lisa Hardy, from Tyne and Wear said " When I ran I lost a flip flop in the panic and I watched it being swept dow the street."
Her daughter Chloe Angel, 13, said " The parents were concerned, but the kids loved splashing around and did not realise the potential danger.
Many people had to wait hours to get home. Main roads were flooded and the Paseo Maritimo was badly hit. It was feared that some folk my have missed their cruise ships because of the lengthy delays.
Public transport was hit andf there were many jams with nose to nose traffic. Drivers has to be extremely careful with flood patches even on the main roads.
Most people sought refuge in the C and A store as the flood waters began to rise.
Staff brought out cardboard boxes to make a paper bridge at the entrance to the store. And it paid off. Soaked customers bought jackets and umbrellas.
"We bought two hooded jackets" said Lisa, 44. ¨The store must have done a good trade as it was also their sale day."
The looky looky lads also did a roaring trade with their umbrellas going for sky high prices.
Credit: Cronica Balear (YouTube)