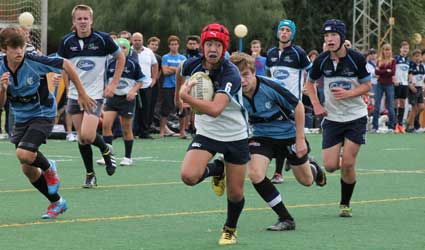 HIGHLY experienced visitors Malaga come to Bahia to take on Marbella RC in the league. The deby meeting in the past has sometimes degenerated into a free for all scrappy challenge, but this time saw two teams fighting hard for every play.
Marbella, still building with novice and new players, took the game to Malaga in the first 20 minutes, only conceding an early drop goal, then for the next hour each team swapped tries keeping the game close.
However, due to some innexperience from a couple of the team, Marbella lost two players due to technical fouls, sent off to the 'Sinbin' by the referee for 10 minutes each, which gave the visitors the advantage they needed to extend the score.
It was undoubtedly another great performance from the ever growing MRC side even thought they lost, Coach Allan Davies reported: "They are gaining valuable motivational team spirit and hard experience every week which will soon click to hopefully make them a very challenging side."  Final score was MRC 17-32 Malaga.
The U16s hosted a touring side from Cathedral School, Cardiff. The match was played in three periods of 20 minutes, each of which turned out to be very different from the other.
The visitors ended the first period of three 0 -26 before Marbella came back. Tries came from Yako Irusta, Alexander Cruz and Jaime Ross with conversions from Toby Francis and Alexander Cruz, but it was not quite enough as Marbella lost 26 -29.
The U16 team travelled with the U18s to Sevilla to play in the return pre-season friendly matches against Cajasol Ciencias.
Cajasol took their chances when presented and deservedly beat Marbella 31-19.  It is only the second time in two years that Cajasol have beaten Marbella and it bodes well for an exciting league this year.
The U18 side had a pre-season warm up match against Cajasol Ciencias that eventually ended up a 0-55 walk over. There were tries from Augusto Nuñez (2), Oscar Garcia de la Peña, Tomas Padin, Alexander Cruz (2), Javier de la Peña, Toby Francis & Sam Parry with conversions from Marco Spinetti (4) & Carlos Garcia