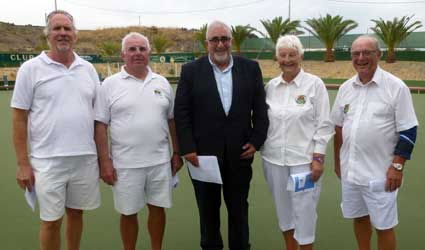 INDALO BC took on Quesada as they hosted the finals of the prestigious Kings Cup.
Eleven players from each team took part and the format was men's and ladies' singles, pairs, triples and rinks.
In the Men's singles Derek Webb (Indalo) won 21-14 against Pete Bonsor (Quesada), while
Deidre Leeming (Quesada) won 21-17 against Ann Reynolds (Indalo) in the Ladies' singles.
Alan DeBoer/ Jan Dando (Indalo) won 23-13 against Veronica and Derek Sale(Quesada) in the pairs, with Debbie Colquhoun/Mo DeBoer/John Colquhoun (Indalo) winning 23-11 against Ruth Birch/Derek Tozer/Nick Birch (Quesada) in the triples.
In the Rinks  William Holtham/Pearl Houghton/John Muldoon/Bill Pain Quesada won 20-12 against Babs Davies/David Ebdon/Roy Burns/Colin Thomas.
Indalo won the final by six points to four and are the winners of the Kings Cup 2013.