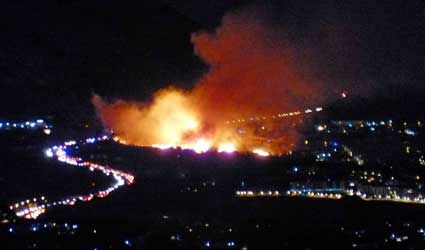 By Sophie Elliott
LOCAL residents and hotel guests were evacuated and traffic on the A7 motorway halted when strong winds fanned a scrubland blaze towards a housing estate.
Two homes on the estate were affected, but emergency services managed to control the blaze before major damage was done.
The fast moving fire was first reported at 6.15pm in the Reserva del Higueron area, next to the El Higueron restaurant on Tuesday.
It rapidly spread along the margins of the A-7 motorway to a residential area on the border of Fuengirola and Benalmadena.
Aside from threatening homes, which the blaze got to within feet of, the blaze also got dangerously close to a Shell petrol station, just off the 112 turning on kilometre 217 of the A7.
As a result police stopped traffic on the motorway towards Malaga and cars were backed up for six kilometres.
Fire fighters from Benalmadena, Mijas, Fuengirola and Torremolinos were quickly on the scene to fight the fire. They were joined by Guardia Civil, National Police and Local Police from neighbouring towns who controlled traffic and evacuated homes and the nearby THB Reserva del Higueron hotel and spa.
Pete Woodall, who witnessed the fire, said: "It got really close to the houses – a chair on one of the homes's terraces was burned. And the fire got within a stone's throw of the petrol station. If it had reached that I dread to think what would have happened."
The fire was controlled relatively quickly and as a result only two homes were affected by the blaze.
Those evacuated were taken to a hotel away from the danger zone, but only remained there for a matter of hours before the fire was put out.