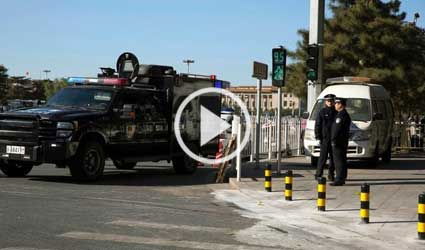 BEIJING (Reuters) – Chinese police were scouring hotels in Beijing on Wednesday for eight people wanted in connection with the crash of an SUV at Beijing's Tiananmen Square, which authorities suspect may have been a suicide attack by people from the Xinjiang region.
A security guard at a guesthouse in Beijing that is owned by the local government of Karamay city in Xinjiang said the hotel had received a list of eight suspects to watch for.
Xinjiang, in the far west, is home to China's Uighur Muslim minority and borders the Central Asian states of the former Soviet Union as well as Afghanistan and Pakistan.
Another employee at the guesthouse said police sent a notice to them on Tuesday, saying staff should be "cautious about Uighurs who check in at our hotel."
In Monday's crash, three people from Xinjiang are suspected to have driven the sport utility vehicle into a crowd of bystanders at Tiananmen Square, the iconic heart of the Chinese state, and set it on fire, two senior sources have told Reuters.
The three occupants and two tourists were killed and at least 38 people were injured, in what could be the first major suicide attack in China.
China has not said officially whether the incident was an attack or an accident.
Two hotels contacted by Reuters said authorities were also searching for five vehicles in connection with the suspects. They are also searching for a red motorcycle.
Beijing police did not reply to a faxed request for comment.
China's Ministry of Foreign Affairs urged people not to jump to conclusions when asked if the government believed that the Tiananmen crash was an attack carried out by Xinjiang extremists.
"Relevant departments are carrying out an investigation," said Foreign Ministry spokeswoman Hua Chunying. ""We ought to wait for the results of the probe to come out."
A Chinese state newspaper reported in July that the government suspected Syrian opposition forces were training extremists from Xinjiang to carry out attacks in China.
Uighur activists have long criticised the Chinese government for repressing their language and culture, and say that they have been cut off from much of the economic investment in the oil and gas industry in their resource-rich home region.
"There has been an acceleration of Uighur unrest, and most of it stems from Chinese policy," said Michael Clarke, a professor at Griffith University in Australia who has studied the history and politics of Xinjiang. "The extension of economic modernisation to Xinjiang has gone hand in hand with marginalisation of the Uighurs."
"There really needs to be a reassessment of China's approach to Xinjiang," he added.
Uighur activists have said they fear the government will take advantage of the incident to inflict even more repressive policies on Uighurs all over the country.
"They have not stopped to investigate and find out the real truth of what happened," said Ilham Tohti, a Beijing-based Uighur economist and longtime critic of Chinese policy in Xinjiang. "Why is it that it has already been decided, in the media and by the public, that this is an act of terrorism by Uighurs?"