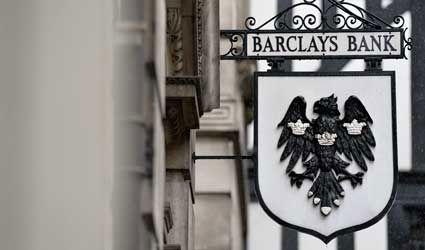 LONDON (Reuters) – Barclays said it was cooperating with regulators investigating the possible manipulation of currency trading by major banks, deepening scrutiny of the bank's practices as it grapples with a slump in investment bank income.
Barclays, Britain's third-biggest bank by market value, said on Wednesday it was reviewing its foreign exchange trading "covering a several year period" and was cooperating with authorities investigating possible attempts to manipulate certain benchmark currency exchange rates.
Several banks are under the spotlight over alleged rigging in the $5.3 trillion-a-day foreign exchange market, and UBS and Deutsche Bank said on Tuesday they were cooperating with regulators.
The investigation adds to a string of probes faced by Barclays boss Antony Jenkins, who took over as chief executive 14 months ago and is trying to rebuild his bank's reputation after a series of scandals while trying to withstand a trading slowdown in its core bond market.
Barclays reported underlying pretax profit of 1.4 billion pounds for the three months to the end of September, down from 1.9 billion a year ago but above an average forecast of 1.25 billion from analysts polled by the company.
Profits at its investment bank fell to 463 million pounds from 988 million a year ago and below expectations.
It was the unit's lowest profit since the end of 2011 and was largely due to a 44 percent slump in revenue from fixed income, currency and commodities in the latest quarter.
Activity across banks has been hit by uncertainty over U.S. monetary policy, but Barclays' performance was worse than most of its biggest rivals.
Barclays shares were up 2.5 percent at 272.8 pence by 08:12 a.m., as analysts said bad bond trading had been expected and the absence of any new provisions for mis-selling was positive.
"Barclays is at a stage where management attention in the medium term will largely be focused on fixing the deleveraging process and boosting capital levels," said Bernstein analyst Chirantan Barua. "Meanwhile (the) fixed income outlook globally remains muted in the medium term."
Barclays raised 5.8 billion pound in a rights issue last month to meet a capital shortfall identified by its regulator. The bank said that, including the fundraising, its common equity Tier 1 capital ratio improved to 9.6 percent, based on full Basel capital rules that are being phased in.
The UK regulator said banks must meet a leverage ratio – a measure of its capital to assets – of 3 percent. Barclays said the rights issue would lift its leverage ratio to 2.9 percent, or 2.6 percent based on the same criteria used by the regulator.
It plans to retain earnings and sell more assets to help reach the target.
Jenkins said he was pleased with progress in turning the bank around, but remained cautious about the operating environment.