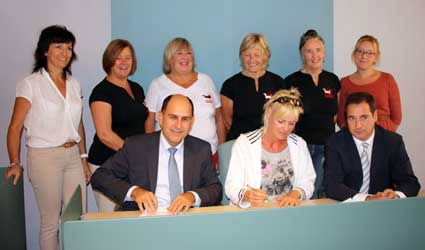 BENISSA and Teulada town halls will help Akira to build a shelter for abandoned animals.
Benissa town hall has agreed to provide land on the La Pedrera industrial estate, near the Ecoparque.  Initially this will be available for 15 years on the understanding that this period can be extended.
Benissa will obtain the necessary permits and licences for building and setting up the shelter for 100 dogs, said mayor Juan Bautista Rosello .  The council will also connect water, drains, electricity and a telephone line.  The installation should be ready within a couple of months, Rosello announced.
Teulada is to contribute €15,000 towards building expenses and starting up the shelter, announced mayor Antoni Joan Bertomeu. 
Akira will provide the remainder and take responsibility for the shelter's maintenance and upkeep.  It will also collect animals at the town hall as and when required.
Akira's president Gine Wilhemina Oosterhaven thanked both mayors for their help.  The import thing is being able to save abandoned animals and find them new homes as Akira has been doing for the last two years, she said.