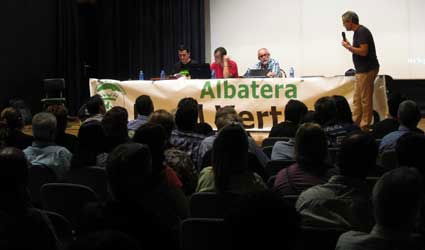 THE fight against the proposed landfill site in Albatera is headed for the European Parliament.
Leaders of the association Albatera, No al Vertedero, made the announcement in front of hundreds of supporters at their latest meeting in the town's Casa de Cultura. Representatives will travel to Brussels on December 4-6 to meet the European Parliament and put forward their case and objections to the plans for the dump.
They will present the report which advises against the installation and asks for the enforcement of the law on solid waste treatment.
Before heading to Brussels, two further protests have been planned. The first takes place next Saturday when buses will take residents to Murcia to express their rejection across the province border. On Monday, November 1, another protest will be held in Valencia outside the gates of the Regional Ministry of Environment. There protestors will ask Regional Councillors responsible for the environment and environmental quality to meet their requests regarding the landfill.