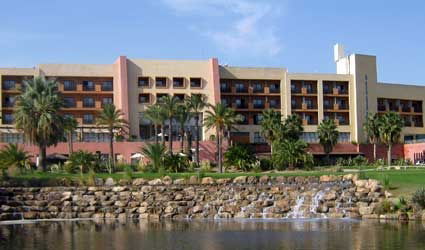 THE European leg of the prestigious Golf Tournament 'Father & Sons' has arrived at the Valle del Este in Vera this week.
Theinternationalcompetitionis very popular not onlyamong players, but also among thefans of the sportin the UK andIreland. The growing popularity ofthis tournamentis probably due to the fact that it counts among itssponsors SkySports, which broadcasts its programmesnot only inthe UK, but also in Europeand therest of the world.
The event continuesuntil Saturday  with  more than 60 pairscomposed of fathersand sons and grandparentsand grandchildren,as they measure their skillsinthe sportat the Valle del Este resortin Vera.
Directorof theValle del Este Hotel, Antonio Torralbo, said that bringing such a prestigious tournamentto the province of Almeria isveryimportant, especially with such an attractivesport as golf. The fact thatthousands of fanswill seethe good weatherinAlmeriawill attract moretourists to ourprovince, he added.