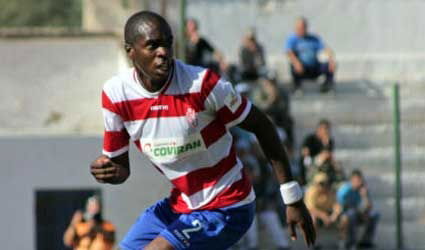 MADRID (Reuters) – La Liga club Elche have denounced their own fans who racially abused Granada's French defender Allan Nyom in Saturday's La Liga game at their Martinez Valero stadium in Alicante.
Nyom reacted to a chorus of what referee Carlos Del Cerro Grande said in his match report were "monkey chants" from one section of the crowd in the 89th minute by angrily booting the ball towards them and was booked.
The official then ordered an announcement to be made telling the Elche fans to desist.
"The club repudiates in the strongest possible terms the racist chants directed at the player Nyom that came from one very small section of the crowd," Elche said on their website (www.elchecf.es).
"In fact, after the incident, Elche CF called via the public address system for an immediate end to the behaviour and ordered that it not be repeated, as actually happened," they added.
Nyom, who is in his fifth season with Granada, said he regretted kicking the ball into the crowd and he did not consider Elche a racist club.
"It was an impulsive reaction," the 25-year-old was quoted as saying in Tuesday's edition of Marca sports daily.
"I shouldn't have done it but sometimes you just lose your temper," he added
"It was my way of responding to what was happening to me. What can I do? It was a handful of people who were trying to destabilise me.
"In France it never happened to me but in Spain it's not the first time I have experienced something similar."
The persistent presence of racism in football stadiums was recently highlighted by the abuse suffered by Manchester City's Ivory Coast midfielder Yaya Toure during last week's Champions League game at CSKA Moscow.