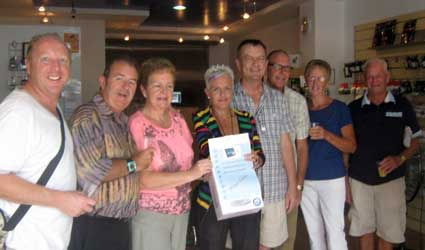 KEN and Gill of Connexions in Turre celebrated their 10th anniversary in business this week.
The busy shop has a real sense of community and is a great success story having started off in smaller premises before moving to their current location close to the town square around three years ago.
To celebrate 10 years of trading, Connexions held a free raffle for a seven inch tablet computer, as a thank you for the customer support.
The anniversary day was celebrated with Bucks Fizz and nibbles for the customers and Chrissie and Ray from the Euro Weekly News Office in Mojacar made the draw with the lucky winner being Mr Paul Hardwicke.
The shop has everything for all your computer needs, selling computers, laptops,tablets and televisions as well as accessories such as printers and inks.
Ken offers a repair and upgrade service on computers and is more than happy to help customers with their computer and phone problems.Connexions also have post boxes and a postal service and sell a range of accessories such as reading glasses, books and handmade greetings cards.
Ken has recenty launched a new online shopping site which is well worth a look the website www.theoutletshop.net  sells a whole range of goods including electrical items which come with a two year guarantee.
Items can be delivered anywhere in Spain and also to the UK which may be ideal with christmas just around the corner.