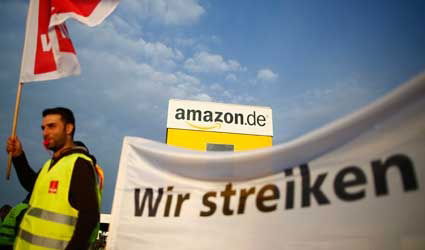 BERLIN (Reuters) – Workers at two Amazon.com Inc distribution centres in Germany went on strike again on Tuesday over pay and conditions, the latest blow to the world's biggest Internet retailer in its second-biggest market.
Services trade union Verdi called a one-day strike at Amazon centres in Leipzig and Bad Hersfeld after workers in Leipzig had already walked off the job on Monday. Amazon said deliveries were unaffected as most employees continued to work.
The union has organised several short strikes this year in a bid to force Amazon to accept a collective agreement on employment conditions similar to deals for the mail order and retail sector, more generous than for the logistics sector.
Verdi, which has warned members could strike during the busy Christmas holiday season, said it expected about 600 of the 2,500 workers in Bad Hersfeld to take part on Tuesday and about 500 of the 2,000 workers in Leipzig.
"Amazon should expect more strikes," said Mechthild Middeke, Verdi union representative in Bad Hersfeld.
Amazon employs around 9,000 people in Germany, its largest market outside the United States. Sales there grew almost 21 percent in 2012 to $8.7 billion, representing a third of its overseas total.
In addition to criticism over pay and working conditions for logistics workers, Amazon has come under fire in Germany for a low tax bill. The state's antitrust watchdog has also accused it of undermining competition.
A survey published by consultants OC&C earlier this month showed German consumers' faith in the Internet giant had fallen on the back of doubts whether it was "fair and ethical". OC&C said the labour disputes were undermining Amazon's relationship with its customers.
"Trust has historically proven to be the most important factor in driving overall consumer perception of a retailer and has long been a core strength of Amazon's across multiple markets," OC&C said in a summary of the survey.
"Amazon's recent experience in Germany shows how fragile trust can be and the impact it can have across consumer perceptions of a whole proposition."
Amazon regards staff in Bad Hersfeld and Leipzig as logistics workers and says that they receive above-average pay by the standards of that industry.
The company said earlier this month it would invest in three new logistics centres in Poland, prompting speculation – quickly rebuffed by Amazon – that it could seek to shift work across the border from strike-hit centres in Germany.
The company, like several major tech sector companies, has faced questions over its tax arrangements in other major European markets. Over the past six years, it has paid around $9 million in income tax on over $23 billion of sales to British clients, because it says it operates a single European business out of Luxembourg, rather than a multinational structure of independent subsidiaries. (ID:nL3N0DX2410