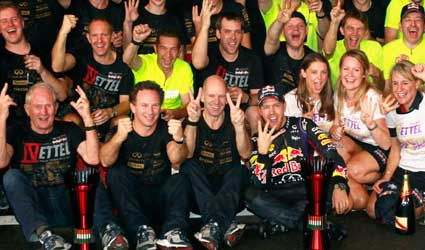 NEW DELHI (Reuters) – Sebastian Vettel has the talent to surpass Michael Schumacher's record seven Formula One titles after becoming the sport's youngest quadruple champion, according to Red Bull team boss Christian Horner.
Vettel, still only 26, chalked up his 36th career win in 117 races at the Indian Grand Prix on Sunday to seal his fourth successive crown.
"His win record is quite incredible," Horner told reporters when asked whether Schumacher's astonishing records, which many people thought would last down the generations when he left Ferrari in 2006, looked vulnerable.
Schumacher won 91 races, with Benetton and Ferrari, from 307 starts.
"There's so many things in this sport that determine that. It depends on being in the right machinery as well, but from a skill point of view there's absolutely no reason why not," Horner added.
Vettel led from pole position on Sunday, winning in India for the third year in a row, and both Horner and Red Bull design genius Adrian Newey said the German was still improving.
"I think Sebastian has grown this year. The way he's driven, the level at which he's delivered, it's been his best ever year. He's raised the bar continually," Horner said.
Newey, who has won titles with three different teams (Williams, McLaren and Red Bull) in his stellar career and worked with greats like four times champion Alain Prost and Ayrton Senna, had no doubt that Vettel was up there with them.
Numbers alone, he said, mattered less than the manner of achieving that success. While reluctant to make comparisons, he highlighted the qualities found in all the greats.
"The great drivers that I have been lucky enough to work with, the thing they do all share in common is that they have that ability to drive and process at the same time," he observed.
MORE KNOWLEDGE
Like the others, Vettel learned from his mistakes. He had complete recall when he got out of the car and continued to analyse and learn from what had happened during the race.
"You see it with Sebastian all the time. I always have the impression that every time he gets in the car, he gets in with a bit more knowledge than he got out last time," said Newey.
"His driving has gone from very talented but slightly raw at times to incredibly well-rounded now. You could occasionally in 2009 and 2010 criticise him for making slightly ill-judged moves and having accidents.
"You could criticise him possibly for not being able to overtake. I think a lot of people felt that if he didn't start from pole and control the race from the front, then he was not so good.
"I think you really can't make those criticisms any more. It's difficult to see a chink in his armour really. He learns all the time."
Schumacher was able to mould his Ferrari team around him as the clear number one and he reaped the benefits of that.
Even then, the German's decision to leave Benetton for Ferrari in 1995 after winning two titles meant he had to wait another five years before becoming champion again.
Vettel, who is well aware of his place in Formula One history, could be tempted to do likewise one day but his Red Bull bosses were confident that remained a long way off.
"It's all about the team isn't it? You need a great team and great drivers," Horner said. "He is now by rights one of the all-time greats. He joins a very select few but it needs everything to work in harmony.
"You can have the best driver in the world or the best designer in the world, but if you don't have the right team and work as a team it will never work."
Vettel has been part of the Red Bull programme since his early teens, just as Lewis Hamilton was nurtured by McLaren from a similar age. Hamilton left for Mercedes last year but Horner said it was not a given his driver would want a change.
"Of course, there's no guarantees. But it's not about contracts, it's about relationships," he said.
Newey, a prime target himself for all the top teams, agreed the bond between Vettel and Red Bull was a special one.
"I think we've managed to create a very honest sporting team, we don't pretend to be anything we're not. We're a Formula One team operating out of relatively scruffy factory units in Milton Keynes, nothing glamorous," he said.
"We just try and keep our feet on the ground and have a good creative atmosphere in the team, work hard. And I think Sebastian appreciates that."