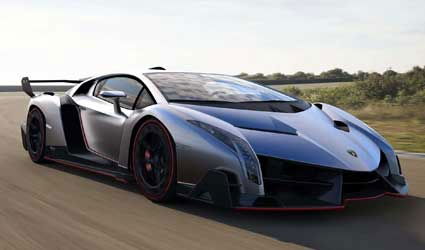 AUTOMOBILI Lamborghini is presenting the Veneno Roadster racing prototype to celebrate its 50th anniversary.
The Italian manufacturer has created a super sports car focusing on design, performance and exclusiveness.
Not more than nine units will be built during the course of 2014, which will be sold at a price of €3.3 million each.
The design of the Veneno Roadster brings aerodynamics and stability together through an open roof with a rollover bar that ensures safety.
The visual division of the rear bumpers from the car body is a reference from the manufacturer to the world of racing cars and optimises the aerodynamic flow.
An adjustable wing has been put at the rear of the car to ensure optimum airflow when interacting with the rear diffuser.
The lightweight design of the Veneno Roadster shows on the scales.
With a dry weight of 1,490 kilograms, the car benefits from a power-to-weight ratio of 1.99 kg/hp.
The sports car is driven by a 12-cylinder engine with a displacement of 6.5 litres and is equipped with the fast-shifting ISR transmission with five modes, permanent all-wheel drive and a racing chassis with pushrod suspension and horizontal spring/damper units.
With a maximum output of 552 kW / 750 hp, the Veneno Roadster accelerates from 0 to 100 km/h in just 2.9 seconds and top speed stands at 355 km/h.
The interior of the Veneno Roadster is dominated by carbon fibre in order to reduce the weight of the vehicle.
The carbon fibre monocoque is visible inside the car around the central tunnel and the sills.
The two lightweight bucket seats are made from Lamborghini's patented forged composite.
The woven carbon-fibre is used to clad the entire cockpit, part of the seats and the headliner.