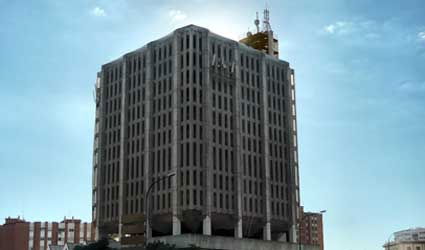 AN investor has shown interest in building a hotel and shops in the old Correos building in Malaga city.
The 13-floor building in the city centre housed the Correos (Spanish Postal Service) offices between 1986 and 2010. Although there was talk of turning it into luxury apartments, the more plausible option is to turn it into a hotel with shops on the ground floor.
This proposal has been made by an international investment group, according to a local Spanish daily.
The building is owned by the Junta de Andalucia and whether or not it could be used for anything other than offices is yet to be determined. However, the change of its classification is something which is already being discussed, although it may take a year for permission to come through. If it is permitted, the building could be sold for up to €30 million, with estimated refurbishment costs adding up to €15 million.