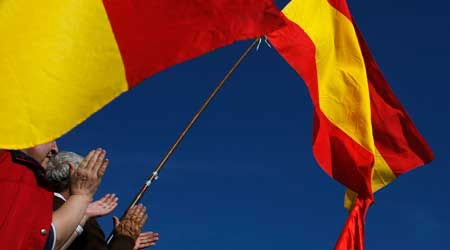 MADRID (Reuters) – Thousands of people rallied in Madrid on Sunday to protest against a European court ruling which released an ETA member from jail and opened the way for dozens of other convicted Basque separatists to walk free.
Ines del Rio, who was jailed in 1989 for her role in 23 assassinations and car bombings, was freed on Tuesday, a day after the European Court of Human Rights said her continued detention was illegal because of changes to sentencing rules that happened after her conviction.
Victims of Basque separatist violence – which killed more than 800 people over four decades – rallied in Madrid, alongside members of the ruling centre-right People's Party (PP).
Since Monday's ruling, Spain's High Court has received requests to review the imprisonment of 51 members of ETA, which stands for Basque Homeland and Freedom in the Basque language. The group announced a ceasefire two years ago.
"ETA assassinated my father when I was only 15 years old," said Maite Araluce, addressing crowds waving Spanish flags and chanting "justice".
"Now we have to see how these murderers walk free, smiling … I don't want revenge but I also don't want them to enjoy what they have stolen from us."
Del Rio, 55, originally received prison sentences totalling more than 3,000 years, though Spanish law capped the amount of time someone could spend in prison for murder at 30 years. She had been scheduled for early release in 2008, but courts extended her detention and that of dozens of other ETA members.
In 2006, Spanish courts ruled that time off for good behaviour should be subtracted from a prisoner's total sentence, not the 30-year limit. That meant Del Rio would have had no chance of getting out in less than 30 years.
The court ruling is uncomfortable for the People's Party which has traditionally taken a hard line on ETA and has made Spanish unity central to its policies, in the face of demands from the Basques and the Catalans for independence.
But the government looked unlikely to defy the European court ruling. Prime Minister Mariano Rajoy described Sunday's demonstration as a "protest of solidarity with victims, not a protest against the court."
"The ruling is humiliating for the victims," Estaban Gonzalez Pons, a senior PP member of parliament, told reporters at the rally. "We hope Europe will see how much this ruling has hurt Spain."
Some at the protest said the PP should have ignored the ruling or fought it harder.
"The government may have to obey the ruling but what is inadmissible is that 24 hours later people are already getting out. We don't accept this immediacy. They should have tried to see what could be done," said Maria Luisa, a retired public health worker.
About 600 members of ETA – are in prison in Spain. Of those, 61 had had their early release cancelled under the change in the law which could now be overturned.