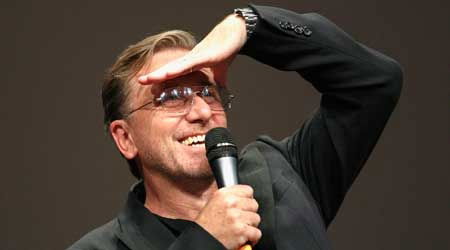 LONDON (Reuters) – Actors Tim Roth and Gerard Depardieu have agreed to star in a film about FIFA president Sepp Blatter, senior FIFA officials have confirmed.
The project, being made by a French production company, is due to be released next year to coincide with the World Cup finals in Brazil and FIFA's 110th anniversary and tells the story of world soccer's governing body since its formation in 1904.
Roth, a 52-year-old Englishman, will play Blatter, a 77-year-old Swiss, while Frenchman Depardieu will play former FIFA president and compatriot Jules Rimet, who was among FIFA's founding fathers and served as the body's president from 1921 until 1954.
Speaking on a video on FIFA's website (www.fifa.com), Blatter said he was pleased to be portrayed by the British actor on screen.
"The casting was well done and it was a very interesting get-together," Blatter says of his meeting with Roth.
"I had read a lot of the CV and (seen) all the realisations (films) that Tim Roth has made. I was very eager to meet him, and I have just realised that really we have something in common."
Blatter said Roth agreed that the pair had "some common, let's say, qualities".
Filming will take place in France, Brazil and Azerbaijan.