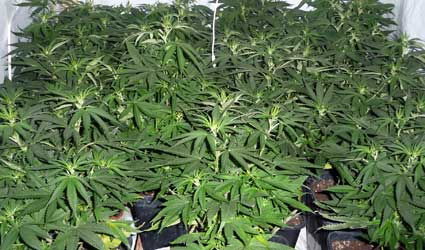 FIVE people have been arrested in three separate drugs related operations.
They are alleged to have been involved in possessing, growing, and selling large amounts of cannabis in Motril. 
National Police arrested the men during a three-part operation, which aside from the arrests, involved the seizure of 40 large cannabis plants, with a combined weight of 60 kilos and six bin bags of marihuana. 
The operations took place in accordance with the police movement to prevent the growing of illegal substances for the purpose of drugs trafficking. 
In a series of operations that began weeks ago the police initially gained information about a farm near the town of Motril, believed to be growing substantial amount of cannabis plants with intentions to traffic and sell their produce.
After carrying out several checks, a procedure was put in to place to intervene and dismantle the industrial-scale drugs operation, and arrest two brothers, aged 31 and 18. The many plants involved in this operation were described by the authorities as large, with a combined weight of 52.78 kilos. As well as these police found 540 grammes of bagged marihuana allegedly prepared to be sold illegally. 
The second arrest occurred in the city centre of Motril, whereby police were informed that a 31-year-old Spanish man, local to the area, could be involved in growing cannabis plants and selling marihuana. In a search of the property carried out by police they found five cannabis plants each weighing more than seven kilos. 
In the third operation, police intercepted a vehicle at a police checkpoint and found the passengers of the vehicle to be acting suspiciously. Police then searched the car and found six rubbish bags in the boot containing seven kilos of marihuana. Subsequently police arrested the two individuals, 22 and 25, and confiscated the drugs and the vehicle in which they were travelling.