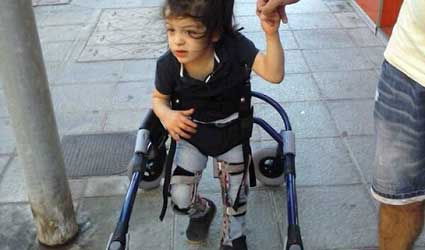 The President of the Lions Club of Vera and District, Glyn Williams, has chosen to raise money for local disadvantaged children for his year of office 2013 to 2014.
As a result, the club has already raised sufficient funds to purchase a walker for little Gema Gonzalez from Alfaix, and as a result of that success, a second similar situation was introduced to the club.
This time, however, the requirement is much more highly specialised, and involves the purchase and fitting of an NF Walker to enable 9nine-year-old Isabel Ramos to achieve a much better quality of life. 
The overall cost will be in the region of €8,000, and it is the ambition of the club to raise this fund as quickly as possible.  To this end, several events are being organised by the Fund Raising committee, where any money raised will be ring-fenced for this project. 
The first event is Karaoke Showtime, beginning at 7.30 pm today (Thursday) at Miraflores, Camping Los Gallardos, at a cost of €10 per ticket.  A number of local singers are giving their time free for this event, and everyone will be given the chance to perform their own favourite songs on the night.
A number of local businesses and organisations have already contributed to this very worthwhile cause, and include the Almanzora Valley Gardening Club, La Alfoquia Resident's Association, Gilles Bar in Turre, The Lions Club of Dunlaoghaire, private individuals, and many more. 
If you wish to make a contribution, then you can pay your money in to the Spectrum office in Parque Commercial, or contact the Lions Club direct on 670816332 (the President) or 667252644 (the Treasurer).