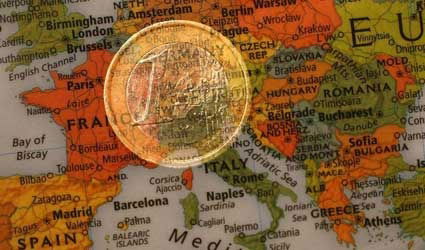 BRUSSELS (Reuters) – The euro zone is suffering from integration fatigue and banking union might be the last big push for the foreseeable future, officials in the currency bloc say.
After three years of tightening policy cooperation, forced by a sovereign debt crisis, the single currency area may be reaching the limits of how much power governments are willing to cede.
"Governments now think that enough has been done already and now let's just implement it, let it function and then we will see," one of four senior euro zone policymakers, who all spoke on condition of anonymity, told Reuters.
More ambitious ideas for a euro zone fiscal union, treasury or even jointly issued debt, floated at the height of the crisis, now seem too optimistic or even unnecessary.
Some policymakers say the euro zone will be lucky even to finish a banking union because it entails a further transfer of powers from national to pan-European level, especially when it comes to closing down banks and financing that process.
"We basically arrived at a point where transferring more power to the European Commission and 'Brussels' in general to dictate national policies is no longer something that people are ready to agree with," a second policymaker said.
European leaders will stress on Friday the need to stick to an ambitious timetable on banking union, keeping up pressure to solve thorny issues of financing and power transfer by the end of the year.
Their two-day Brussels summit has been hampered by the lack of a German government, as coalition talks drag on in Berlin. But insiders say there are deeper reasons for inertia.
When the debt crisis was raging in the first half of 2012, leaders came up with ambitious integration plans to convince investors the euro would not break apart.
"But that was more a move to prevent disintegration, than a move towards real integration," a third senior euro zone policymaker said.
Later in 2012, the European Central Bank declared it would underpin the euro through a bond buying programme, Germany said Greece would not leave the euro zone and a new financing deal for Athens was agreed.
Markets calmed and the sense of urgency has gone. A messy bailout of Cyprus earlier this year presented no wider threat.
"The last Eurogroup (euro zone finance ministers) meeting in Luxembourg was almost friendly," one participant said half-jokingly, contrasting the mood with the tense debates that were a feature of the last three years.
Despite public declarations that there is no room for complacency, politicians believe the crisis is over, a fourth official, who takes part in euro zone meetings, said. "This enthusiasm is completely premature," he said.
Stopping integration now would be dangerous, that official said. If there is no appetite to move further, the euro zone should at least have a blueprint for when and how it would achieve the next steps, even if far into the future.
"A really bad idea is to move with half-cooked initiatives," he said. "We are lacking this agreement on where we are heading."