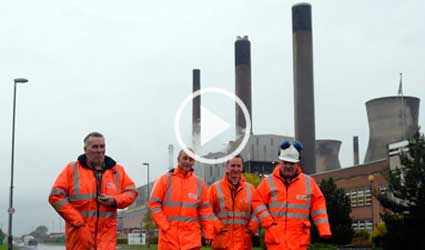 LONDON (Reuters) – A rescue of the Grangemouth refinery and petrochemical plant in Scotland was secured on Friday as the union and the company reached a deal, saving 1,400 jobs and preventing a heavy blow to Scotland's economy.
The Unite union, the largest in Britain, agreed to a freeze in pay and a cut in pension benefits and pledged it would not strike for three years.
Operator Ineos had said losses would force it to close the petrochemical plant and could also force the closure of the 210,000 barrel-per-day refinery.
"Redundancies will be very limited. There's a future for this site, and it's long term sustainable," Grangemouth UK chairman Calum MacLean said at a news conference.
Ineos said it would invest 300 million pounds ($485 million) in the site to cover losses and pay for a new terminal to import gas from the United States.
"We've given the chemicals business another 15 to 20 years on the back of new raw materials, new contracts and significant investment," MacLean said.
Ineos said it would hold a 45 to 60-day consultation period with employees, unions and independent contractors to work out terms and conditions under the new deal.
"This is a victory for common sense. Unite advised employees to reject change and (reject a) vote for closure," INEOS Group Chairman Jim Ratcliffe said.
The Scottish government has agreed to give Ineos a 9 million pound grant to support Grangemouth, and the British government has given initial approval for a 125 million pound loan guarantee, Ineos said.
The closure would have been a setback for the Scottish National Party, which is leading the campaign for Scotland's independence from the United Kingdom.
Scotland will vote on whether to become independent in a referendum in September next year. Many Scots polled on the issue have said their biggest concern will be the likely impact a separation would have on the economy.
A closure of the refinery, which provides power for a major oil pipeline, could also have reduced supplies of the major North Sea crude that underpins the Brent oil benchmark, used as a basis for setting oil prices around the world.
Ineos halted production last week at the refinery, which provides 70 percent of Scotland's fuel.