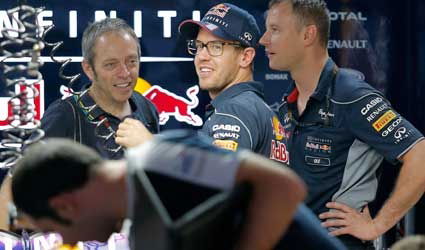 GREATER NOIDA, India (Reuters) – Sebastian Vettel can be beaten and Red Bull team principal Christian Horner knows it.
The bad news for the German's Formula One rivals, as he gears up for an Indian Grand Prix likely to secure him a fourth successive title, is that defeat is more likely on the tennis court than at the racetrack at present.
Vettel has won every race since the end of the August break, a run of five in a row, and had to cast around for examples when asked at a packed news conference on Thursday about his strengths and weaknesses.
"I don't know. You have lots of experts working for you so maybe they can judge," he said, addressing the massed television cameras.
"I don't like talking about myself, at least for the strengths. I think it always sounds a little bit cheesy.
"For the weaknesses…I am very stubborn. Sometimes too stubborn and it takes a little while to realise a couple of things. There's other things as well but, again, I'll leave that to your experts."
Horner, in relaxed mood with reporters later, grinned when informed of his driver's assessment and dropped casually into the conversation that he had beaten Vettel at tennis only the other day.
The defeat had not gone down particularly well but Vettel can at least take consolation that his boss may be the only man in the paddock able to boast any sort of a victory over him since July.
Vettel has won the two Indian Grands Prix to date, both from pole position, and also led every competitive lap at the Buddh International circuit.
It is almost inconceivable that he will leave without the title on Sunday but the 26-year-old claimed he was taking nothing for granted.
"For sure, it's nice to have the opportunity but I'm not trying to focus on that. I'm trying to focus on the race," he said. "I said many times that the most important for us is that we win the championship, it doesn't really matter where and when."
Vettel could have wrapped up the title in Japan two weeks ago, had results gone his way, and now has a 90 point lead over Ferrari's Fernando Alonso with a maximum 100 still available.
He will not need to score another point if Alonso fails to finish in the top two on Sunday.