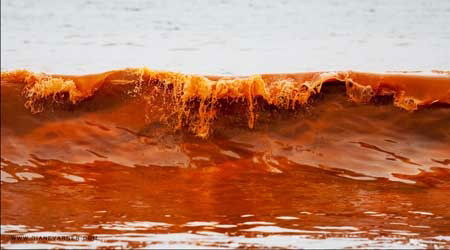 A RED TIDE is putting the futures of 100 fishing families at stake.
A large concentration of aquatic microorganisms, known as red tide, or algal bloom, has meant shellfish fishermen at la Caleta port in Velez-Malaga have had to remain tied up in port.
European Union regulations prevent the harvesting of shellfish when red tide affects the fishing waters. The reason is that the algal bloom may produce poisons that are absorbed by shellfish. When eaten, infected shellfish can cause severe poisoning and even death.
More than 100 Malaga families depend on the 80 boat fleet. Overall the la Caleta industry has seen an 85 per cent fall in profits since the summer, when the red tide started.
Fishermen's guild representative Jose Luis Guerrero confirmed that some people have already sold their boats in light of the situation.
"Our future is at stake," he said.
The fishing ban started in July and there are no signs of the European Union lifting it. Fishermen hope the national government would put pressure on the European Union to lift the ban, which is, according to them, the only way to save them.