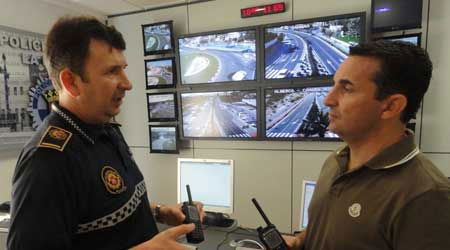 LA NUCIA's local police force has been equipped with ultra-modern new radios incorporating  a GPS signal.
Their old analogue models have been phased out and substituted with the trunked radio system, a new type of computer-controlled two-way communication. 
The La Nucia force is one of the first in the province to adopt the new system which ensures clear, defined communications throughout the town. The force is now linked to COMDES, the Valencian Community's mobile emergency and rescue services. Privacy is guaranteed and officers have a direct link with other police forces and all the services required during emergencies. 
Mayor Bernabe Cano said La Nucia's police have always been in the forefront of cutting edge new technology: "The Policia Local have entered the digital era. Communications will now have 100 per cent coverage and police response will gain in speed and immediacy, providing a better service for residents."