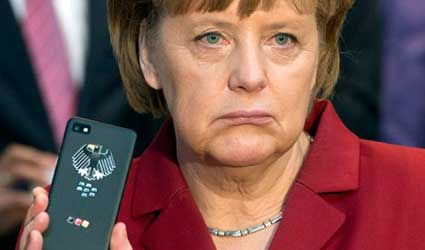 BRUSSELS (Reuters) – German and French accusations that the United States has run spying operations in their countries, including possibly bugging Chancellor Angela Merkel's mobile phone, are likely to dominate an EU leaders' meeting starting on Thursday.
The two-day Brussels summit, called to tackle a range of social and economic issues, will now be overshadowed by debate on responding to the alleged espionage by Washington against two of its closest European Union allies.
For Germany the issue is particularly sensitive. Not only does the government say it has evidence the chancellor's personal phone was monitored, but the very idea of bugging dredges up memories of eavesdropping by the Stasi secret police in the former East Germany, where Merkel grew up.
Following leaks by data analyst Edward Snowden, which revealed the reach of the U.S. National Security Agency's vast data-monitoring programmes, Washington finds itself at odds with a host of important allies, from Brazil to Saudi Arabia.
In an unusually strongly worded statement on Wednesday evening, Merkel's spokesman said the chancellor had spoken to President Barack Obama to seek clarity on the spying charges.
"She made clear that she views such practices, if proven true, as completely unacceptable and condemns them unequivocally," the statement read.
White House spokesman Jan Carney said Obama had assured Merkel that the United States "is not monitoring and will not monitor" the chancellor's communications, leaving open the possibility that it had happened in the past.
A White House official declined to say whether Merkel's phone had previously been bugged. "I'm not in a position to comment publicly on every specific alleged intelligence activity," the official said.
German Foreign Minister Guido Westerwelle has summoned the U.S. ambassador to Berlin to discuss the issue, a government spokesman said on Thursday.
Germany's frustration follows outrage in France since Le Monde newspaper reported the NSA had collected tens of thousands of French phone records between December 2012 and January 2013.
President Francois Hollande has made clear he plans to put the spying issue on the summit agenda, although it is not clear what that will ultimately achieve.
While Berlin and Paris are likely to find sympathy among many of the EU's 28 member states, domestic security issues are not a competence of the European Union. The best that may be hoped for is an expression of support from leaders and calls for a full explanation from the United States.