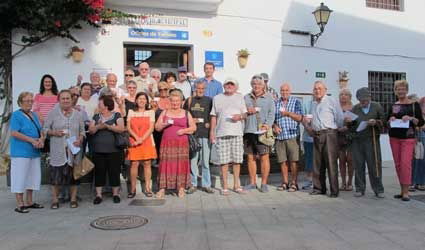 THE first free bus passes for Mojacar senior citizens have been handed out.
Mojacar mayor, Rosa Maria Cano, accompanied by members of the tourism board and social affairs department  presented the passes at the town hall.
Following an agreement by  Mojacar council with bus company Autocares Rodriguez,  a total of 2,965 people (1,530 men and 1,435 women), have access to free municipal public transport in Mojacar with  the only requirement to be 65 years old or older and be registered at the town hall.
During the ceremony, Rosa Maria Cano stated that 'the town hall will bear the cost of making the cards, amounting to about €5 each . The mayor also stressed that the cards were not transferrable.
"Both the company and the town hall have made great efforts to enable the over 65's registered in Mojacar to use free local public transport. It is a socially orientated measure to help somehow alleviate the current economic circumstances,"said Rosa
All people over 65 registered in Mojacar who have not yet obtained a  free  travel card can apply at the town hall.