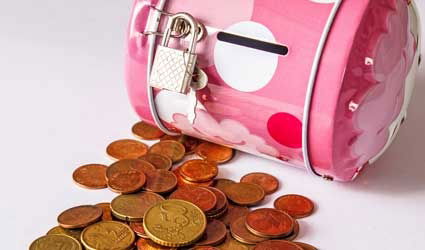 SOMETIMES it's the little things that do count.
The other day a friend of mine, who has just moved into a new apartment with her husband, mentioned that they have already kitted out their new pad with a sofa, dining room table and chairs and a brand new bed. All paid for in cash.
My jaw dropped. These days our lovely friends at the bank aren't in the habit of giving out extra money on top of mortgages to help furnish a new house – so how did she manage to buy all these lovely new things?
Well, my pal began the process of purchasing this particular apartment off plan a couple of years ago, and, in what ended up being three years of waiting for the place to be built and finished, herself and her husband managed to put away a tidy sum of savings in a piggy bank nonetheless.
Every evening when the pair came home from work they would empty any small change from their wallets into a piggy bank. Between the two of them on a daily basis they might have tipped in up to €8, but even at an average of €4 per day into a piggy bank, in one year that amounts to almost €1,500. So you can imagine that after three years they had saved up quite a lot of money.
The best part of the whole thing, she told me, is that they never felt like they were saving. It wasn't as painful as trying to put €100 away in one go. By putting a few loose coins into a savings jar each night, saving was easy – it never felt as if they were parting with a lot of money. It was basically just some extra change that might otherwise have been used for a coffee or tapa. 
I think it's a great idea – and while I don't own a piggybank I have instead cut a coin slot into a used five-litre water bottle, which now serves as a savings device. I have securely taped shut the cap of the bottle too to help deter myself from ever thinking to dip into my coin stash. It's only day four of saving so far, but in 361 days from now I too hope to buy some fancy new furnishings for my home!