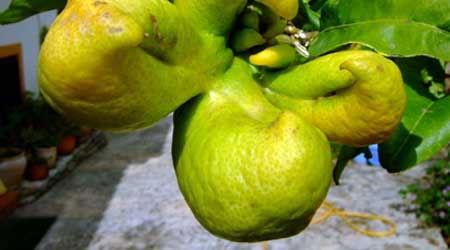 DAILY we read advertisements and articles persuading us to buy manufactured vitamin tablets to supplement  vitamin deficient diets. But how much better to eat the vitamins as nature intended them by growing and eating fruit and vegetables that are known to contain the main vitamins we apparently need for continuous good health or for recovery if ill.
Interestingly the labels on some bottles of vitamin pills include the note Not intended as a substitute for a balanced diet. Further heath authorities worldwide now recommend that we eat at least five portions of fruit and vegetables a day for their vitamin and mineral contents, others emphasise that these are best if fresh and grown ecologically/organically without the use of chemical fertilisers insecticides fungicides and the Slow Food movement recommends that we should try and eat local produce to sustain the local economy.
So let's do it by growing our own in containers on apartment terraces, in raised beds in small gardens, in the garden or if convenient an allotment/huerto.
The great advantages are that you can focus on growing those fruits and vegetables with the greatest beneficial vitamin and mineral contents and harvest each day just what is required for each meal or day.
To help you understand which vitamins minerals etc are of benefit to your wellness and which vegetables and fruits include them we include descriptive tables in our book 'Living well from our garden – Mediterranean style' which is available exclusively from Amazon Books or if you require autographed copies from [email protected]
Whatever you select to grow ensure you include anti-oxidant and anti-inflamatory vitamin/mineral rich foods. We ensure that we grow and eat plenty of dark green acelga (chard) and spinach leaves, sprouting broccoli, tomatoes, nasturtium flowers and leaves, garlic, onions, tomatoes, radishes , beetroots and carrots.
As for fruit we can harvest something on every day of the year to give seasonal diversity ranging from vitamin C packed mandarins and oranges from now to May and red raspberries from May to November. Having planted a perpetually flowering and fruiting Lunar lemon tree lemons can be harvested 365 days a year. After waiting six years we finally had a good harvest of vitamin packed kiwinos which are like mini kiwis but growing in small bunches a little like grapes and yesterday ate the first of this year's  crop of goji berries. By the way the plants were grown from a few berries taken from a bag of dried berries purchased in a local market. 
And remember that working in the garden, on the vegetable plot or in the orchard under the winter sun means that the sun stimulates natural vitamin D when we most need it during the shorter winter days. 
© Clodagh and Dick Handscombe October 2013.