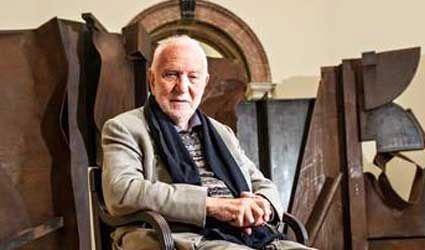 LONDON (Reuters) – Anthony Caro, one of Britain's greatest sculptors and a pioneer in three-dimensional art, has died of a heart attack aged 89, a family statement said on Thursday.
Born in 1924 in Surrey, Caro studied engineering at Christ's College, Cambridge and served in the Royal Navy during World War Two.
He then studied sculpture at Regent Street Polytechnic and the Royal Academy Schools, during which time he became a part-time assistant to renowned sculptor Henry Moore.
His breakthrough came in 1963 at the Whitechapel Gallery in east London when his decision to display large, brightly painted abstract sculptures without a plinth caused a stir.
He often worked in steel, but also used a diverse range of other materials, including bronze, silver, lead, stoneware, wood and paper.
"Anthony Caro was one of the outstanding sculptors of the past 50 years alongside David Smith, Eduardo Chillida, Donald Judd and Richard Serra," said Nicholas Serota, director of the Tate Museum in London.
"In the sixties, he established a new language for sculpture in a series of elegant, arresting, abstract steel sculptures placed directly on the ground.
"His development of this vocabulary, building on the legacy of Picasso, but introducing brilliant colour and a refined use of shape and line, was enormously influential in Europe and America."
Caro, who died on Wednesday, married painter Sheila Girling in 1949, with whom he had two sons.
A major exhibition of his work is currently on show at The Museo Correr in Venice until October 27.