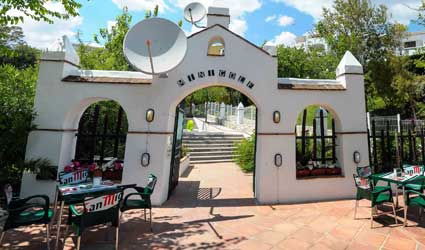 For a fun family day out why not try Bar & Mini Golf in Benalmadena!
The Bar & Mini Golf is a great place to spend the afternoon! There's something for everyone with the uniquely fun mini-golf course, stunning outdoor terrace with sea views to relax and enjoy food and drink, and friendly chatty staff to keep you entertained!
The Bar & Mini Golf is the perfect setting for a party for adults or children!
The mini golf course itself is situated among beautifully kept rustic gardens, within the Bar & Mini Golf premises which are fully enclosed, so parents can enjoy relaxing at the bar while the kids play without worrying about their safety and whereabouts.
The bar also offers a full bar service with a range of food, all of the food is freshly prepared on premises, and all at fantastic prices! Like the freshly baked baguettes and served hot from the oven or the deliciously spicy nachos!
The mini golf is great fun, even on a cloudy day, and on its own is €4 per person, which is great value for money. And for those who want to do it all try one of the special offers, like a hot baguette, toasted sandwich or a burger, plus a drink which can be a beer or soft drink and the golf for just €7.50. Or now that winter is here play of a game of mini golf and enjoy a hot bowl of homemade soup with bread and butter for just €5.
The family business, now in its 16th year prides itself on its friendly service. Owner Lynda Tyndale says "everybody who works here does it because they enjoy it. You can see it in the way we interact with people, no matter how old or young our customers are we've got time to talk to them."
Bar & Mini Golf is open from 10.30am every day, weather permitting and in the summer months remains open until late. And during the colder months closes around 8pm and 6pm during mid winter.
Contact:
Lynda Tyndale – 670 732 785 [email protected]
Mark Tyndale – 638 153 542 [email protected]