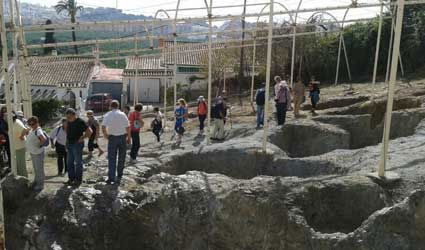 MALAGA archaeology enthusiasts visited Almuñecar recently to learn more about the town's cultural legacy.
Almuñecar was inhabited in at least 1500BC and was settled by the Phoenicians during the 9th century BC.  Following the Punic wars, the town was colonised by the Romans who founded a flourishing economy based on farming and processing fish.
The group, which included university professors, was accompanied by experts from the town hall's Archaeology department who showed them
the Phoenician burial ground at Puente de Noy and the Cueva Siete Palacios archaeological museum.
"The Malaga visitors were surprised by the town's rich history and told us they hoped to return soon," said the coordinator Manuel Galiana. 
The success of the visit was further proof that Almuñecar's important heritage is now preserved and publicised as it deserves, said Culture and Education councillor Olga Ruano. 
"The variety and quality of the town's offer already make it a cultural reference point at national level," Ruano added.  "Now we must all work to ensure that Almuñecar continues to attract visitors."