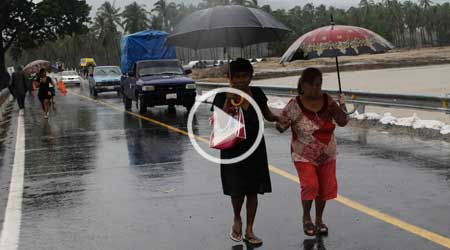 ZIHUATANEJO, Mexico (Reuters) – More heavy rain spawned by Hurricane Raymond as it churned over the Pacific fell on southwestern Mexico on Tuesday, soaking areas hit by record flooding last month, but forecasters said the storm was weakening and appeared unlikely to reach land.
The port and schools remained closed in the resort city of Acapulco, which also was battered by tropical storms that struck Mexico in mid-September. The freight hub of Lazaro Cardenas to the northwest also was shut.
Coastal rains caused minor mudslides in the hills behind Acapulco, but there were no reports of significant damage.
The U.S. National Hurricane Center downgraded Raymond to category 1 in the five-step hurricane intensity scale, saying it was now "barely a hurricane" and was expected to weaken to a tropical storm on Wednesday.
Raymond, located about 100 miles (161 km) off the resort town of Zihuatanejo on the coast of Guerrero state and 140 miles (225 km) west-southwest of Acapulco, generated sustained winds of 75 miles per hour (121 kph), and may draw nearer to land before starting to move slowly out to sea on Wednesday, the Miami-based center said.
The hurricane was stationary for much of Tuesday, the forecasters said. They expected it to produce between five and 10 inches (13-25 cm) of rain in Guerrero and Michoacan, and in isolated cases as much as 15 inches (38 cm).
Heavy rain came down overnight in Acapulco, but by Tuesday morning only a slight drizzle was falling with light winds. People moved about freely, beaches were open and there were no signs of serious flooding in the city center.
The city nearest to the threat of Raymond was Zihuatanejo, to the northwest of Acapulco.
While the Pacific resort city of Zihuantanejo saw a respite from heavy rains and winds Tuesday night, officials were worried Raymond could bring a heavier downpour overnight.
"Things could still get a lot worse," said Jaime Vazquez, deputy director of the resorts emergency services. "The biggest risk will be tonight with more rain."
Some 5,700 people are still in shelters in the poor southern state of Guerrero after they were driven from their homes. Some 270 people were evacuated in Zihuatenejo since Monday as the rains returned.
"We were going to go back to our home, but now we cannot," said Guadalupe Castillo, 34, as she settled down for another night in a shelter with her husband and three children.
"We do not have any other option," said Castillo's husband, Guillermo, who has not been able to find work as a waiter due to the drop in tourism after the recent storms.
Last month the country suffered its worst flooding since records began when storms Manuel and Ingrid converged from the Pacific and the Gulf of Mexico, killing more than 150 people and causing damage estimated at around $6 billion.
Torrential rains brought down hotel occupancy rates in the Acapulco last month and flooded the resort's airport, str