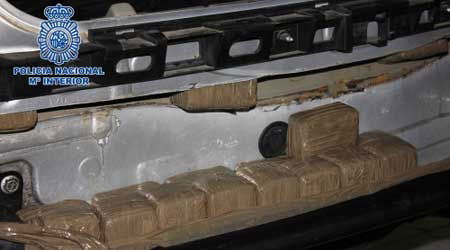 THREE men, aged between 31 and 44, have been arrested for trying to smuggle 340 kilos of hashish into Spain from Morocco.
They were allegedly hiding the drugs in two cars on the ferry covering the route between the cities of Al Hoceima (Morocco) and Motril.
According to sources, National Police found some of the drugs during a vehicle checkpoint at Motril port.
They arrested the men and took the car to police premises under the suspicion they could find more drugs hidden in them.
Their suspicions proved right as they found more drugs carefully hidden in the cars.
Officers had to disassemble the vehicles to reach the illegal substances, which had been hidden in different parts of the cars, including in the seats and the bumper, sources said.
As a result, the two cars together with the 340 kilos of hashish and €1,200 in cash were seized.
The arrested men have been remanded in custody.