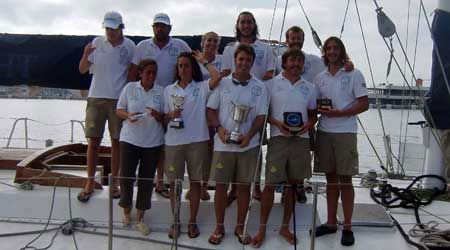 JOVES NAVEGANTS' yacht Galaxie made a triumphant return to Palma's Club de Mar on Monday following its win in the Tall Ships Race.
That gave an opportunity for the charity to demonstrate how it had transformed the lives of some local disadvantaged young people during its 20 year history.
Victor Manuel Torres Gonzalez returned to the island to congratulate Galaxie's crew. He had travelled from the Carribbean-based superyacht Germania Nova on which he has worked for the past three years.
"I, like you, was given a chance by Joves Navegants," he explained. "They enabled me to crew aboard the Russian square-rigger, Mir, in an earlier Tall Ships Race. I cleaned beaches and learned navigation in their Mar de Joves programme, and then they helped me get qualified, learn English and find work."
All the young people who went on this year's Tall Ships Race talked about their "unforgettable experience", of "never thinking they would participate in something so incredible," of the feeling of "companionship" with all the other crews, of every nationality, who took part.
Veteran supporter of the charity, Patrick Griffith, spoke of how "racing at sea is not the most important part of Tall Ships. It is the Friendship Trophy that is the most coveted prize. All the Captains vote in a secret ballot for the ship that has done most during the regatta for international friendship and cooperation," he explained.
Galaxie's captain, Joan Dicenta Aguirre, agreed. "The sailing is an excuse for the real thing, which is for young people to gain confidence, experience of different cultures and to participate in a great spirit of togetherness."
Joan was quick to point out that next year's Tall Ships Race is in the Black Sea so the charity will need some serious sponsorship if Galaxie is to voyage so far and try to duplicate her 2013 glory.