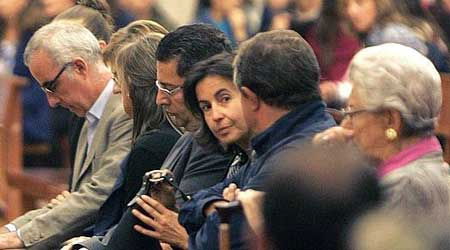 THE adoptive parents of a 12-year-old girl found dead near Santiago de Compostela, Galicia, have been charged with murder.
The body of the girl, of Chinese origin, was found on a track in Teo, northern Spain, by a couple heading to a disco on September 22. Her mother owns a property in the town.
An analysis of the girl's hair has revealed that she had been taking sedatives for some time, and a post mortem report revealed that she had been given a high dose of a sedative before death.
Police report she was tied up and suffocated. A piece of orange rope found at the scene of the crime is identical to one found in her mother's home.
Her parents, a lawyer and journalist who adopted her 12 years ago, reported her missing but it was later discovered that she had been with her mother after the time when the woman claimed she had left her alone in their house.
The couple have been remanded in prison. A people's jury will hear the case in court. The couple refused to take part in a reconstruction of the last hours of their daughter's life.
The investigation into the death of Asunta indicates she may have been killed because she had inherited money from her maternal grandparents, who died last year.
Her parents couldn't access the inheritance unless she died and her body was found.