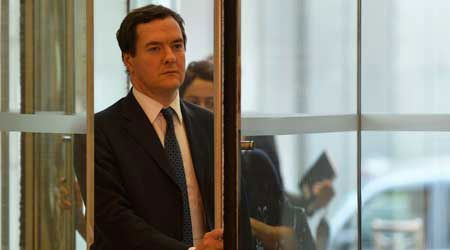 LONDON (Reuters) – An improving economy will not be enough on its own to rein in Britain's still wide budget deficit and more action to cut costs is needed, Chancellor George Osborne said on Tuesday.
"An improving economic situation in the UK does not automatically lead to a windfall for the public finances because we shouldn't assume that a structural deficit is solved by an improvement in GDP," Osborne told a Thomson Reuters Newsmaker event in London.
"It's called a structural deficit for a reason," he said.
Earlier on Tuesday, data showed Britain's public finances improved in September, helped by higher tax revenues as the economy emerged from a long period of stagnation after the financial crisis.