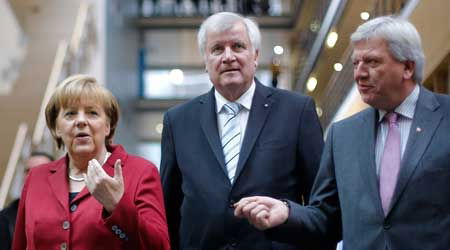 BERLIN (Reuters) – A sharp rise in rental prices in German cities poses no risk to the broader economy and introducing rent controls would only exacerbate the problem, economists said on Tuesday ahead of coalition talks between Angela Merkel and the Social Democrats.
Chancellor Merkel's conservatives and the SPD both pledged during the recent election campaign to impose a cap on rents in order to slow the rapid increases seen in metropolitan areas such as Berlin, Hamburg, Munich and Frankfurt.
Earlier this week the SPD went a step further, listing such price controls as one of its 10 conditions for entering a "grand coalition" government with Merkel.
But a new study on the German property market by the IW Institute in Cologne warned that caps may end up aggravating the supply-and-demand imbalance by curbing investor appetite for real estate, and slowing the construction of new apartment buildings.
"International experience shows that the withdrawal of investors from the market for rental apartments can have negative consequences for renters," the institute said.
The message echoed that of the German central bank, which in a separate report released on Monday said housing prices in some cities looked overvalued but cautioned against trying to contain this development with rent controls.
"The Bundesbank is opposed to restricting the amount by which rents can be increased," it said. "Further robust growth in the construction of multiple-family dwellings can only be expected for as long as investors continue to see enough yield potential in the buy-to-let market."
While loose lending practices in Ireland, Spain, Britain and the United States produced dangerous real estate bubbles that burst when the global financial crisis struck in 2008, the German market remained largely stable until the euro crisis hit nearly four years ago.
Suddenly German property became attractive for investors seeking a safe haven and decent returns in a world of low interest rates.
LOW HOME OWNERSHIP
The impact on rental prices was swift, in part because so few Germans own their homes. At 46 percent, Germany has the second lowest rate of home ownership in Europe, behind Switzerland at 39 percent. By comparison, the rate in Britain is 69 percent.
Over the last six years, rents in the capital Berlin have shot up roughly 40 percent, according to the independent DIW economic think tank.
They are still well below the levels of other major European capitals. According to official figures released in May, a 100-square metre apartment in Berlin costs 554 euros a month on average. That would only get you a 42-square metre apartment in Madrid, 14 square metres in Paris and just 11 in London, according to the website Global Property Guide.
Nevertheless, rent rises in Berlin and other German cities have sparked howls of protest, which reached a crescendo during the recent election campaign.
The SPD backed a cap on rents early in the campaign and Merkel followed suit in June despite grumbling by some members of her conservative Christian Democrats (CDU).
The assumption ahead of the start of coalition talks on Wednesday is that since both camps support the idea, they will agree to incorporate it into the policy agenda of their new government.
The Bundesbank report, which focused mainly on purchase prices for houses and apartments rather than rents, said levels in big cities like Berlin, Hamburg, Munich, Cologne, Frankfurt, Stuttgart and Dusseldorf were up to 20 percent higher than economic fundamentals would justify.
Rising British housing prices, particularly in London, have also caught the attention of the Bank of England in recent months. But price gains in isolated cities are virtually impossible for central banks — especially the European Central Bank which sets policy for the entire euro zone — to control.
In any case, the Bundesbank said it was "very unlikely" that the German price developments would result in macroeconomic risks or dangers to financial stability.
Andreas Mattner, president of the ZIA property association, also dismissed the idea that a speculative price bubble may be developing in Germany, telling Reuters that economic factors like rising immigration were contributing to the boom.
"A rise in prices becomes a bubble when it does not reflect supply and demand. In Germany this isn't the case," he said.